Click the box to stop & start the song,
Whatcha Gonna Do?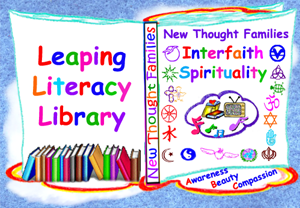 Supporting families with mindful multimedia for fun filled,
reverent home spiritual remembrances & practices!
Special Free & Wee Fee Merry Memberships Available NOW!
Leaping Literacy Library is located on our Creative Spirit Families website.
Click the links below to browse each section. This page gives more detail
about our New Thought Families' Spiritual Literacy offerings. EnJOY!

| | |
| --- | --- |
| Features & Resources | Leaping Literacy Library Marvelous Membership Levels |
Leaping Literacy Library

Literacy & Spiritual Literacy! Regularly rotating

Free Shelf

+

Paid MarvelousMemberships

for full Library Access!

Library Free Shelf!

($0 year)


Fab Freebies
from all sections of
Leaping Literacy Library.

Leaping Literacy Online Membership Library

($144 year to access the WHOLE Library!)

New Thought Section

alone has hundreds of Pages, Pictures, Songs, eBooks, & Videos ~ Playful & Prayerful ~ Mindful & Mystical!

Current Month

24 Archived Months

2-8 Songs

Given Away Monthly

250 Songs
Across all sections of Leaping Literacy Library

2-8 Videos

Given Away Monthly

400 Videos

Access Videos in all sections in the Library

2-8 eBooks

Given Away Monthly

225 + eBooks

Laurie StorEBooks & YourStorEBooks too!

Art

:

Mixed Media + Photography

Samples/Calendar

Downloadable Gallery

Access 1000+ photos in multiple sizes

YES!

A Playgound of blessed yesness expressed!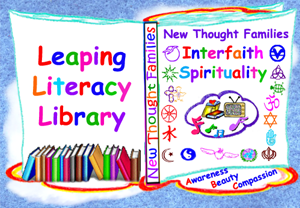 Get spiritual support for your family!
Special Free & Wee Fee Merry Memberships Available now!
New Thought Families
Supporting families with mindful multimedia

for fun filled, heart centered home spiritual practices!
Intergenerational, Interfaith Inspirations ~ for children & inner children of all ages.
| | | |
| --- | --- | --- |
| | Our New Thought Families branch of the Leaping Literacy Online Library gives 24/7 access to multi-media inspirations to help families communicate, activate & co-create from the heart! | |
Packed with playful reminders of the divine beings we truly be!

Play with creativity in the Spirit of your family's brilliant divinity!

"Where kids can see in their parents hearts & parents can see in their kid's hearts."




~ Jeremiah John Vela-Murphy
Fab Photo
:
Turtle Family
Thanks: Michel Kotski of Third Eye Photo Creations
A
lign with the shine of your family's divine design!
Hooray! Let's Play!
We are here to help you and yours remember more of your divine essence.

We're here to support you in having more mindful, heart centered connections
with your children & those you love most; including yourself & your precious inner child.
We offer intergenerational, interfaith multimedia materials that help inspire family focus
in a playful, prayerful, hopeful heart centered home spiritual practice.
"We must be fierce about our spiritual practices."

~ Rev Barry Ebert,
Assoc. Minister & Youth Director at Mile High Church,

Science Of Mind, April 2013
Free
Leaping Literacy
Library Card

Gives you access to our regularly rotating Free Shelf:
Awareness Of Beauty
Compassion In Action
Love Blessed
Flow Of Forgiveness
Tell The Truth
Be The Change
In Our Hands Service
Forward With Fortitude
United As One
Centered In Quietude
Zealous Yesness: Feel The Zeal
I Am Free


Count Blessings
Kind Hearts Give Joy
Bear Hugs
Smile Days
Circle of Life & Love
Thanks Living
Faith Filled Footsteps
Imagine & Intuit
Hopeful Prayer
Flowing In Grace
Sacred Awareness
Oh Holy Light
"I love every day's CALENDAR CREATIONS!!! ... "Entry" doesn't do them justice.
Thank you--perfect words to start my day... and to share in my yoga classes and beyond!"
~ Yogi Keith Lickey, Sacred Path Yoga
*

Music:

"Thanks for your songs Laurie Story ...
Congrats on your work/play with children!"


- Pete Seeger

Download our songs!
Includes songs from 8 CDs & 2 more CDs of upcoming songs too!

These 80 Songs are Online in Current Distribution:
Click each CD
for lyrics and song
samples!
Mindful Mystical Members also access:
30 Songs from Laurie Story Archives:
&
2
9
+ Songs Currently In Production For Distribution:
Mystical Members: Join this birthing journey!

&
"Laurie's songs come directly from her soulful heart to yours. With soothing, enthusiastic and affirmative lyrics, children of all ages experience heightened emotional awareness and spiritual groundedness. In a fast-paced workaday world where we often forget our connectedness, Laurie helps one to be mindful of self and others."

~ Jennifer McCandless, Artist, Mom, Heart Light, Sacramento, CA
*
Videos
:
Choose from 8 sections for Home Spirit practice & remembrance videos
in our archives + we keep adding new ones!

These are available for private online screening and/or in downloadable video pdfs!
Including ...
Creative YES!


Unique Spirit Centered Celebrations! Home Expressions
School Projects

*

Video eBooks

Home Spritual Practice
Ideas for Families!
Gratitude

*

Compassion

*

Service
Imagination

&

Intuition

etc.

Sacred Nature:

What Sacred Something Can You Celebrate?

!

Music Videos!

Live & Picture Rich

~ Sing Love!

Minister Moments

: Prayer Days & Ways with Holy Ones!

Videos with mindful practices for families

Living Green

!

Yoga Moments with Yogi Keith!
+ more Spiritual Tool Box items!

New Thought TV Videos ~ LAUGH!
"
That was great. To be a black teacher and see a white child admiring GWC as one of his heroes really touches me. AWESOME."
~ 4shizzal on YouTube

"
That was cute. Yes he was my first hero too when I was your age. God Bless

."
~ moonman89 on YouTube
*
eBooks
:



*

Free Members can download revolving Laurie StorEBooks from the Leaping Literacy Free Shelves!
Maarvelous Members access hundreds of Laurie StorEBooks in addition to all the NTF content!

Our growing selections on the Book Shelves include Spiritual LaurieStorEBooks & Your StorEBooks from student authors:

Add Your StorEBooks too!
+ Laurie Story's developing series of Spirit Centered eBooks like

Listening In The Quiet

&

Sebastian Wakes Up

:
...............
"Enchanting Sebastian : a unique visual and spiritual treat for the whole family!
I absolutely LOVED the Sebastian Wakes Up story; the artwork is incredible, the story very simple yet deeply moving.
A real treasure for the whole family, Sebastian's story is eloquently presented with a rich tapestry of colour to keep your little ones entertained. Brilliant read! The audio version was recorded by her son, reinforcing the family-thread so common in this author's works. I wholeheartedly recommend this book."
~ Playful Genie, Callie Carling
Creative Family Leaping Literacy Forum!
All are invited to participate in the
Leaping Literacy Family Creativity Branch
where you can connect with others in your family across the miles, meet new global friends & publish and sell your eBook & art creations if you so choose ~ all part of our global outreach for creative family literacy ~
Share your children's co-creations in our safe cyber haven as you nurture them in social media.
Woo hoo for you and your family too!

Get Current Freebies from our Library including songs & videos
!
Get spiritual support for your family!

New Thought Families is brought to you by Laurie Story Vela; often enhanced by her son, Jeremiah, now age 16 and a powerful, proficient musician. The New Thought Families online ministry of merry music & mindful home spirituality practices began in 2006 with the website going live on 2/7/2007. Laurie Story's first professional experience with children & New Thought was as Youth Education teacher and then director at Unity Temple, Santa Cruz, 1992-1994 where she designed & implemented playful curriculum & monthly church performances. She did more of the same for the Spiritual Life Center, Sacramento in 2005-6 where she directed a Youth Choir who sang monthly in church as well as on the Small After Small & I Am A Seeker CDs and in the first Name That Peacemaker production. Laurie Story has been creating, producing & publishing family & children's books, music & curriculum since receiving her M.A. in Education & Curriculum Design from UC Davis, 1991. Her Leaping Literacy program for developing readers & English language learners is full of her innovative 'physical phonics', amazing alliteration, and rollicking rhyme in hundreds of Laurie StorEBooks & songs found in the Leaping Literacy Online Library. The New Thought Families' section of Leaping Literacy Library focuses on spiritual literacy. The SoulPlay sister section sprang up from the 2014 SoulPlay TeleSummer Camp. Based on knowing that what we nurture will grow, Laurie hopes her work play can help empower families to be more heart centered, creative and connected ~ to themselves, to each other, to all others, and to Source.
Because conscious commitment cultivates co-creative, caring, compassionate connections!
New Thought Families:
Love Remembered & Expressed Video:
Click the box to stop the page song playing, Whatcha Gonna Do?
Evolution = Co-Creation
We are ever evolving expressions of our all things possible Love in action!


Because at the heart of evolution is creation and at the core of creation is play!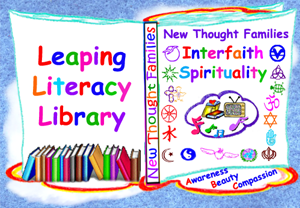 Get spiritual support for your family!