Affirmation Of Kindness:
I am Kindness in action,
I am aware, ready & willing to do kind deeds!
Kindness at Home

Jeremish and I have a Kindness Wall at home
where we added Heart Notes daily.
See and hear more on our
Love Notes video
!
Use the power of words to send
Heart Notes to yourself & others ...!
Kindness is the Classroom

Below is a Kindness Campaign we are implementing
within the walls of a classroom ...
they are using the 5 Point Kindness Check
and creating a wall of Kindness Thoughts.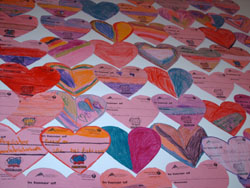 Carve your name on hearts and not marble.
~ Charles Haddon Spurgeon