Our prayers are with Syria & Refugees everywhere;
Tune into our Spotlight On Syria page

Some September Interfaith Inspirations:

Paryushana Parva ~ September 6-15 ~
Jain 8 day festival signifying human emergence into a new world of spiritual and moral refinement. Marked by recitations from Jain sacred writing and family exchange of cards and letters. Celebration of the natural qualities of the soul. The 8th day (Samvatsari) is most important and is focused on forgiveness.

New Thought Christian

Unity World Day Of Prayer ~
September 7th ~ 8th
Annual World Day of Prayer. A 24 hour vigil & celebration held the 2nd Thursday in September.
2016 theme is Discover The Power Within, Unleash Your Divine Potential and the affirmation:
As I discover the power within, I unleash my divine potential.


Christian


Nativity of Mary ~ September 8
Christian celebration of the birth of the Virgin Mary.
International Literacy Day ~ September 8


Call to action for universal literacy.

Centers For Spiritual Living: World Day Of Service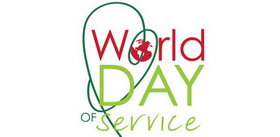 ~ September 10 ~
Donate an hour or a day in your community!

Islam ~ Waqf al Arafa - Hajj Day ~ Sept. 10 ~ begins sundown 9th
Islamic pilgrimage rites at Mecca on 7-12th days of month of Dhu al-Hajja.
Concludes with Eid ul Adha when those not traveling to Mecca take part.



Islam ~ Eid al Adha - Sacrifice Day ~ Sept. 11-14 ~
begins sundown 10
Islamic Festival of Sacrifice. The day after Arafat, the most important day in Hajj ritural.
A three-day festival recalling Abraham's willingness to sacrifice his son in obedience to Allah.
Ethiopian New Year (Rastafari ) ~ September 11
The start of the New Year in Ethiopia is recognized because Rastafarians believe Ethiopia
to be their spiritual homeland, and a place to which they want to return. The Ethiopian calendar is the principal calendar used in Ethiopia and also serves as the liturgical calendar for Christians in Eritrea and Ethiopia belonging to the Orthodox Tewahedo churches, Eastern Catholic Church and Coptic Orthodox Church in Egypt.
(US) National Grandparents Day
~ September 11 ~
In 1978, then President Jimmy Carter declared that the first Sunday after Labor Day,
would be Grandparents Day! ~ Celebrating the lives and influences of grandparents.
Wicca/Pagan

Ostara & Mabon September 22
(northern/southern hemispheres, begins sundown 21st)
The time when the sun is directly above a point on the equator.
The equinox will be either Vernal or Autumnal depending on the hemisphere.
Equinox celebrations as days of equal light & dark mark the turning of the wheel.

Mabon: Wicca observance of the autumnal equniox when day and night are of equal length.
A harvest festival time.
Ostara: Wicca welcoming of spring and the goddess-as-maiden.

Native American Day ~ September 23
Celebrates Native American history and culture, the fourth Friday of every September.
Christian


Arch Angel Michael & all Angels Day ~ September 29
This is the feast day of St. Michael and all the Angels. It is the most ancient of all the angel festivals.
The Anglican church celebrates all angels, both name and unnamed on one day. Roman and Orthodox Churches separate them into two categories (with the unnamed angels having their feast day on October 2nd). From fairly early on, Michaelmas was an important holiday, the religious or Christian equivalent of the autumn equinox.

Some brief definitions and dates from the Interfaith Calendar by Delton Krueger ~ many, many thanks!